Public charging network 'threatens to be weak link' in electric car uptake
The growth in electric car use could be stalled by the public charging network, according to a new report.
A study for motoring research charity the RAC Foundation found that without widespread, reliable and easy-to-use charging points, the mass market appeal of ultra-green vehicles may be limited.
It could also hamper the Government's plan to ban the sale of conventional petrol and diesel cars by 2040, the research warned.
The report by automotive consultant Harold Dermott follows the announcement on Tuesday that Sir James Dyson is investing £2 billion into the development of an electric vehicle that is set to be launched in 2020.
Mr Dermott found that the Department for Transport has encouraged quantity rather than quality in charge points, resulting in a network that is "unattractive to use and is unsuitable for encouraging the next wave of EV (electric vehicle) customers".
More than nine out of 10 (93%) EV owners use public charge points, but as of June some 13% were out of action at any one time, he said.
The Committee on Climate Change has said 60% of new cars and vans must be electric by 2030 to meet carbon targets cost-effectively. In 2016 the proportion was 1.4%.
It was announced in this year's Queen's Speech that an Automated and Electric Vehicle Bill will be introduced to help EVs flourish in the UK by measures such as installing charge points at more motorway service stations and large fuel retailers.
RAC Foundation director Steve Gooding said: "Almost every day companies are announcing their latest foray into the electric car market but the charging network threatens to be the weak link.
"Step-changes in vehicle technology must be matched by equally big strides in our recharging infrastructure.
"Few of the nation's 30 million car owners think twice about the process of refuelling with petrol or diesel.
"With plug-in electric cars you need to find the right charger at the right location with the right tariff scheme.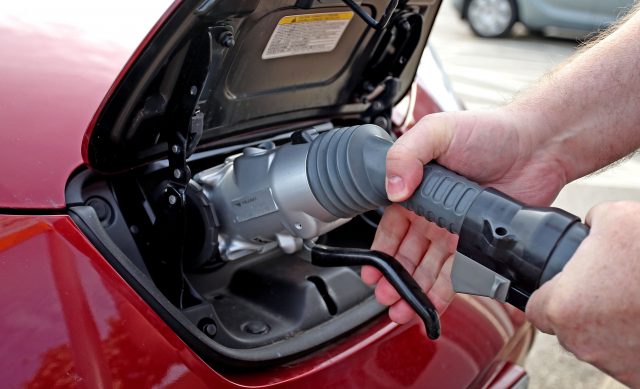 "Even then it needs to be serviceable and not already in use by someone else.
"The danger is that the future of the electric car suffers the equivalent of bed-blocking in the NHS, with queues of frustrated drivers stymied by the lack of adequate, widespread, reliable refuelling opportunities."
Read Full Story
Click here to comment