Government urged to act on homelessness as temporary accommodation data shows rise
The number of households in temporary accommodation in England has risen to its highest in almost 10 years, latest figures show.
Some 78,180 households were in temporary housing at the end of June this year, a level not seen since December 2007.
The figure jumped 7% between June 30 last year and the same time this year, and is 1% higher than the previous quarter, the Department for Communities and Local Government said.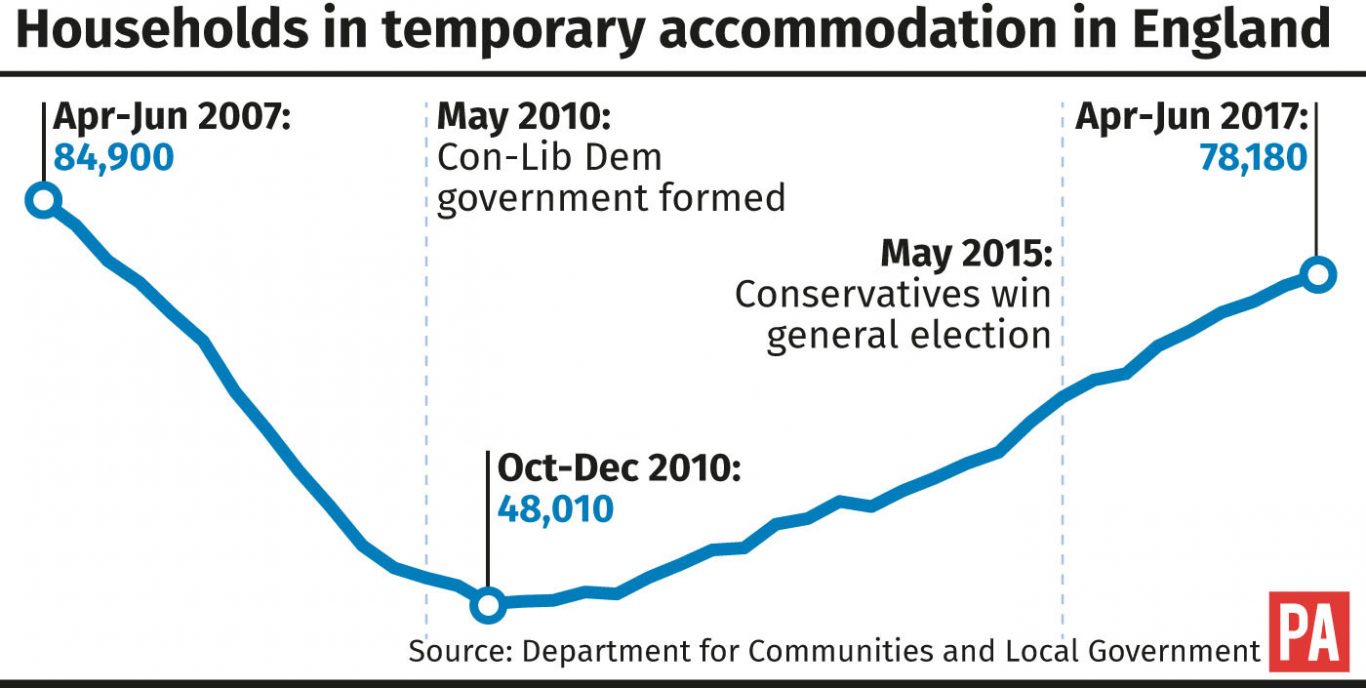 In the same period, the number of households accepted by local authorities as statutorily homeless - those eligible for assistance or made unintentionally homeless - dropped 1% to 14,400 in the last quarter, and 5% on the previous year.
Rick Henderson, chief executive of Homeless Link, said: "A raft of issues is conspiring to cause the homelessness of thousands of people across the country, in a situation that is not improving. We must not become desensitised to this serious problem, or forget that these high numbers represent people's lives in turmoil.
"We can and must act to prevent and end homelessness, and with their party conference less than a week away, the Government must take the opportunity to tackle the reasons why homelessness continues to rise." The latest statistics cover April to June 2017.
The figures come after public spending watchdog the National Audit Office (NAO) criticised the Government for its "light touch approach" to tackling the growing problem.
Its report earlier this month found that welfare reforms and a lack of affordable private housing was to blame for the rise in homelessness. Since 2010, the number of households in temporary accommodation has risen 63%.
The latest statistics show that the main driver behind people losing their homes was the ending of assured shorthold tenancy with a private landlord, which accounted for 30% of all cases of statutory homelessness in England in the last quarter.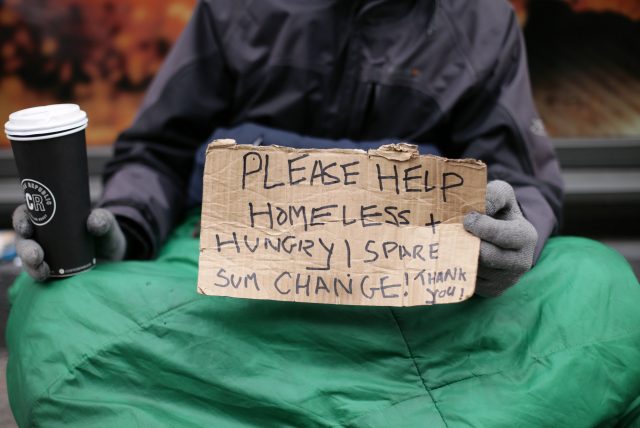 Figures also show that more than a quarter (28%) of households in temporary accommodation were housed outside of their local authority district, a rise of 7% in one year.
Mr Henderson called on the Government to devise a strategy across departments to address the root causes.
He said: "We urge the Government to support the Homelessness Reduction Act with a well-resourced, cross-departmental homelessness strategy, that addresses the root causes of homelessness and achieves noticeable progress for the vulnerable people it affects."
Some 6,660 households were also living in bed and breakfast-style accommodation at the end of the last quarter, including 335 households affected by the Grenfell Tower blaze.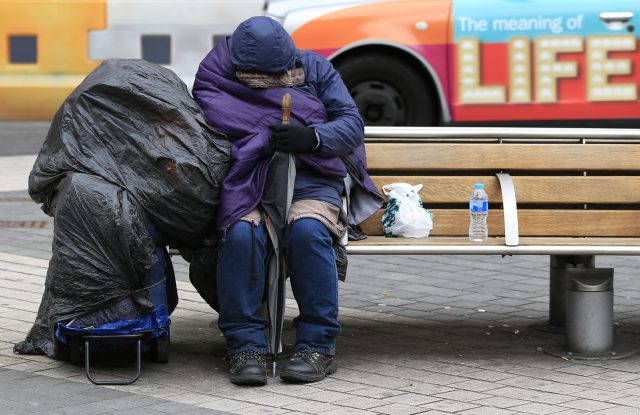 The Department for Communities and Local Government said it is committing £20 million to selected local authorities dedicated to trialling new homelessness prevention tactics.
A spokesman said: "Successful homelessness prevention and relief has risen by 30% since 2009/10, however, we're committed to doing more to prevent more people becoming homeless in the first place.
"We're investing £550 million to 2020 to tackle homelessness and rough sleeping. This includes £20 million for Homelessness Prevention Trailblazer areas to trial new initiatives to prevent homelessness. We've also backed and are now implementing the Homelessness Reduction Act which requires councils to provide support to people earlier."
(function(i,s,o,g,r,a,m){i['GoogleAnalyticsObject']=r;i[r]=i[r]||function(){ (i[r].q=i[r].q||[]).push(arguments)},i[r].l=1*new Date();a=s.createElement(o), m=s.getElementsByTagName(o)[0];a.async=1;a.src=g;m.parentNode.insertBefore(a,m) })(window,document,'script','//www.google-analytics.com/analytics.js','ga'); ga('create', 'UA-72310761-1', 'auto', {'name': 'pacontentapi'}); ga('pacontentapi.set', 'referrer', location.origin); ga('pacontentapi.set', 'dimension1', 'By PA Reporters'); ga('pacontentapi.set', 'dimension2', '732236b6-bcb8-4005-b789-e5895fc77d6f'); ga('pacontentapi.set', 'dimension3', 'paservice:news,paservice:news:uk'); ga('pacontentapi.set', 'dimension6', 'story-enriched'); ga('pacontentapi.set', 'dimension7', 'composite'); ga('pacontentapi.set', 'dimension8', 'paasset:graphic'); ga('pacontentapi.set', 'dimension9', null); ga('pacontentapi.send', 'pageview', { 'location': location.href, 'page': (location.pathname + location.search + location.hash), 'title': 'Government urged to act on homelessness as temporary accommodation data shows rise'});
Read Full Story