Delegates decide priorities, says McDonnell, as Brexit not chosen for debate
John McDonnell has denied that Labour's leadership is trying to quash debate about Brexit at the party's Brighton conference.
The shadow chancellor was speaking after pro-EU MPs, who are pushing leader Jeremy Corbyn to commit to permanent membership of the single market, failed in an attempt to stage a vote.
Delegates from local parties and unions chose eight other subjects as priorities for debate, after the Corbyn-backing Momentum movement urged its supporters not to vote for the Brexit motion.
The decision sparked fury from Europhile MPs on Sunday evening.
But Mr McDonnell insisted there would be "plenty" of debate on the party's stance on EU withdrawal, with delegates on Monday discussing a report from the leadership being presented by shadow Brexit secretary Sir Keir Starmer.
Asked whether the leadership was trying to dodge scrutiny of its position, the shadow chancellor told ITV1's Good Morning Britain: "I wouldn't characterise it that way.
"In our new politics, we are saying conference needs to be controlled by the delegates. They decide what we will debate, not the leadership."
And he added: "This is democracy at work."
Delegates were free to reject the leadership report if they chose, said Mr McDonnell.
But he added that he believed the decision not to prioritise Brexit for debate was motivated by "a feeling that there needs to be a bit more consensus-building, rather than dividing the party at the moment".
Local parties and trade unions chose on Sunday to prioritise debates on Grenfell Tower, rail services, growth and investment, public sector pay, workers' rights, the NHS, housing and social care rather than Brexit.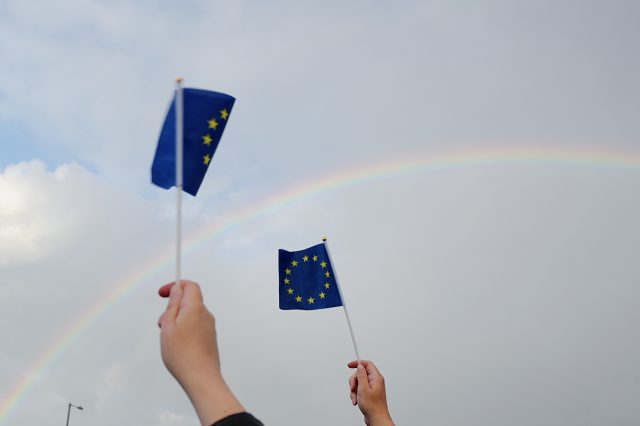 At a rally for Labour's Blairite Progress wing, MPs lined up to condemn the decision.
Shadow Treasury minister Jonathan Reynolds said: "It's never good when the party starts talking to itself rather than to the country.
"To not be discussing Brexit it seems, at the least, a strange decision."
MP Jess Phillips described the move as "f****** ridiculous", while former shadow cabinet minister Heidi Alexander said: "We will be a laughing stock."
Mr McDonnell said the priority was tariff-free access to European markets for British companies, but indicated that this was unlikely to involve full membership of the single market under existing rules on freedom of movement, which he said were abused by exploitative employers to bring in cheap foreign labour.
"We respect the referendum, we want tariff-free access so we protect jobs and our economy," he said.
"We want a relationship with our European partners and a relationship with the single market that gives us that tariff-free access.
"That doesn't necessarily mean - I don't think it does mean - remaining in the existing single market. But we don't know what is going to happen in negotiations in terms of what reforms might take place."
Labour was the only party now able to offer the "compromise" that was needed to deliver a positive Brexit, he said.
(function(i,s,o,g,r,a,m){i['GoogleAnalyticsObject']=r;i[r]=i[r]||function(){ (i[r].q=i[r].q||[]).push(arguments)},i[r].l=1*new Date();a=s.createElement(o), m=s.getElementsByTagName(o)[0];a.async=1;a.src=g;m.parentNode.insertBefore(a,m) })(window,document,'script','//www.google-analytics.com/analytics.js','ga'); ga('create', 'UA-72310761-1', 'auto', {'name': 'pacontentapi'}); ga('pacontentapi.set', 'referrer', location.origin); ga('pacontentapi.set', 'dimension1', 'By PA Reporters'); ga('pacontentapi.set', 'dimension2', '0adee327-05c3-49f1-a7b2-aec290921f47'); ga('pacontentapi.set', 'dimension3', 'paservice:news,paservice:news:uk'); ga('pacontentapi.set', 'dimension6', 'story-enriched'); ga('pacontentapi.set', 'dimension7', 'composite'); ga('pacontentapi.set', 'dimension8', null); ga('pacontentapi.set', 'dimension9', null); ga('pacontentapi.send', 'pageview', { 'location': location.href, 'page': (location.pathname + location.search + location.hash), 'title': 'Delegates decide priorities, says McDonnell, as Brexit not chosen for debate'});
Read Full Story