Boris Johnson condemns 'racial prejudice' of Burma's military
Boris Johnson has condemned the "racial prejudice" of the military in Burma against the Muslim Rohingya minority in a significant escalation of the British response to the campaign of violence.
The Foreign Secretary also criticised Burma's civilian leader Aung San Suu Kyi for defending the treatment of the Rohingyas, hundreds of thousands of whom have fled their homes, many seeking refuge in neighbouring Bangladesh.
His intervention came as US Secretary of State Rex Tillerson raised the treatment of the Rohingya in a telephone call with Ms Suu Kyi - thought to be the first time they have spoken directly.
The State Department said that while he had welcomed the Burmese government's commitment to end the violence and allow the refugees to return home he had also pressed for it to address the allegations of human rights abuses.
Discussing the response of Ms Suu Kyi to the situation, Mr Johnson told the Guardian: "She is clearly not doing enough to express people's legitimate outrage at the treatment of the Rohingya.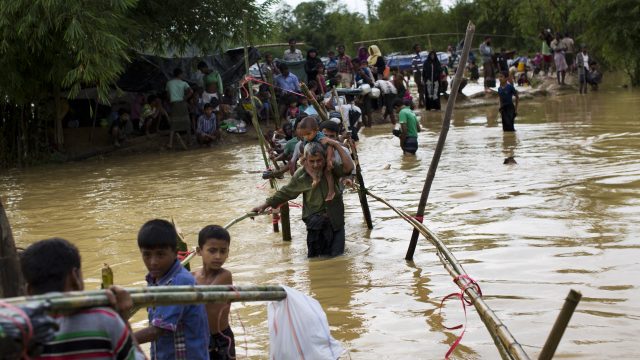 "It is an appalling way to treat innocent people and I am afraid it is driven by racial prejudice."
Asked if he would describe their actions as "ethnic cleansing" as the UN Secretary General Antonio Guterres had done, Mr Johnson said: "I think I would use the same formula as Antonio Guterres. If that's what it looks like, and if it ... If that's what it corresponds to, then I'm afraid people will draw their own conclusions."
Mr Johnson had earlier joined representatives of the US, Bangladesh, Indonesia, Turkey, Australia, Canada, Sweden and Denmark to raise the issue with Burma's national security adviser on the margins of the United Nations General Assembly in New York.
Earlier Theresa May announced that Britain would withdraw its engagement with Burma's military until the violence is stopped.
In a round of TV interviews in New York on Tuesday, she said: "We are very concerned about what's happening to the Rohingya people in Burma. The military action against them must stop. We've seen too many vulnerable people having to flee for their lives.
"Aung San Suu Kyi and the Burmese government need to make it very clear that the military action should stop.
"The British Government is announcing today that we are going to stop all defence engagement and training of the Burmese military by the Ministry of Defence until this issue is resolved."
Read Full Story