Theresa May heads for Canada amid row over 'backseat driver' Boris Johnson
Theresa May is flying to Canada on Monday to lay the foundations for a post-Brexit trade deal amid a continuing furore over the Government's approach to EU withdrawal.
The Prime Minister was facing calls to sack Foreign Secretary Boris Johnson, who was branded a "backseat driver" by a Cabinet colleague after setting out his own vision for a hard Brexit just days before a major speech in which Mrs May is expected to offer compromise.
A new trade deal between the EU and Canada is due to come into effect on September 21, eliminating 98% of Canadian import duties, in what Downing Street describes as a "significant boon" for UK exporters.
But when Britain leaves the EU, it will fall out of the Comprehensive Economic and Trade Agreement (Ceta), which was championed by the UK and took seven years to negotiate.
Mrs May hopes to use Ceta as a model for a new bilateral arrangement between Britain and Canada to be introduced "swiftly" after Brexit.
Under the terms of its EU membership, the UK cannot seal a free trade agreement with an outside country before its departure, though it remains unclear whether this will be possible during the "transition period" expected to last two or three years after the official date of Brexit in March 2019.
The Prime Minister and her Canadian counterpart Justin Trudeau are expected to agree the establishment of a new joint working group, the 13th established by the UK since last year's referendum, to prepare the ground for a bilateral deal based on Ceta soon after Brexit.
Speaking ahead of her visit, Mrs May said that Canada and the UK form a "powerful union" when they work together on priorities like free trade.
"My visit to Canada today is not only about recognising our past but also looking ahead to our bright future," she said.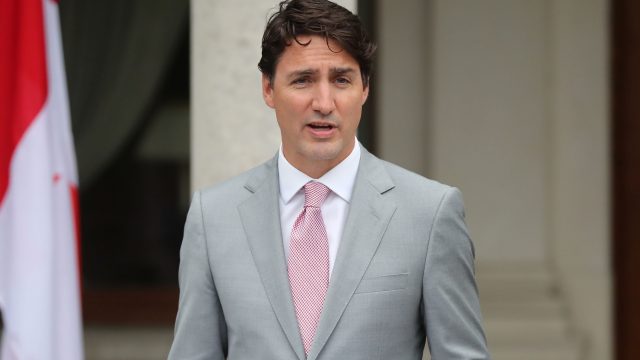 "We are both countries with ambitions to lead on the world stage and progressive values that underpin those ambitions, values including the importance of free trade, and respect for international law.
"When we come together and work as one to project our shared values on the world stage, we form a powerful union."
Mrs May's visit risks being overshadowed by the row over Mr Johnson's 4,000-word essay, in which he said Britain should make no payments for access to the European single market after Brexit, and made no mention of the transitional period which the Prime Minister is now thought to favour.
His intervention, which saw him revive the claim - branded "misleading" by the official statistician - that £350 million a week could be freed up for the NHS by Brexit, was widely interpreted as the first shot in a leadership bid.
Home Secretary Amber Rudd accused Mr Johnson of "backseat driving", while Scottish Tory leader Ruth Davidson criticised him for releasing his comments the day after a terror attack in London.
Liberal Democrat leader Sir Vince Cable said Mrs May's credibility would be "reduced to zero" if she failed to sack the Foreign Secretary on Monday.
But Mr Johnson insisted he was "all behind" the Prime Minister, and Mrs May's de facto deputy Damian Green said he would not be sacked for comments which he said were in line with the PM's own speeches on Europe.
A number of commercial deals are expected to be sealed during the one-day visit to Canada, on which the PM will take part in round-table talks with potential business investors in the UK.
(function(i,s,o,g,r,a,m){i['GoogleAnalyticsObject']=r;i[r]=i[r]||function(){ (i[r].q=i[r].q||[]).push(arguments)},i[r].l=1*new Date();a=s.createElement(o), m=s.getElementsByTagName(o)[0];a.async=1;a.src=g;m.parentNode.insertBefore(a,m) })(window,document,'script','//www.google-analytics.com/analytics.js','ga'); ga('create', 'UA-72310761-1', 'auto', {'name': 'pacontentapi'}); ga('pacontentapi.set', 'referrer', location.origin); ga('pacontentapi.set', 'dimension1', 'By PA Reporters'); ga('pacontentapi.set', 'dimension2', 'da93f5d6-e47a-49e4-9812-6821acb5d0f3'); ga('pacontentapi.set', 'dimension3', 'paservice:news,paservice:news:uk,paservice:news:world'); ga('pacontentapi.set', 'dimension6', 'story-enriched'); ga('pacontentapi.set', 'dimension7', 'composite'); ga('pacontentapi.set', 'dimension8', null); ga('pacontentapi.set', 'dimension9', null); ga('pacontentapi.send', 'pageview', { 'location': location.href, 'page': (location.pathname + location.search + location.hash), 'title': 'Theresa May heads for Canada amid row over \u2018backseat driver\u2019 Boris Johnson'});
Read Full Story