The Few remembered as Charles and Camilla attend Battle of Britain service
The Prince of Wales and Duchess of Cornwall joined war veterans at Westminster Abbey for a moving service to mark the 77th anniversary of the Battle of Britain.
Prime Minister Theresa May, her husband Philip and Labour leader Jeremy Corbyn were among more than 2,000 people who gathered on Sunday to remember the sacrifice of those involved in the 1940 air campaign.
Survivors of the Battle of Britain, dubbed The Few, were applauded by the congregation as they left and squadron leader Geoffrey Wellum admitted he had to "fight for self-control" during the emotional service.
The 96-year-old, who lives in Cornwall, said: "It gets more emotional for me each year.
"I'm not normally an emotional chap but escorting the Roll of Honour with that slow march with a slow drum beat ... I have to fight for self-control a bit."
The Duchess of Cornwall and Charles, who is patron of the Battle of Britain Fighter Association and marshal of the Royal Air Force (RAF), attended a reception at Church House near Westminster Abbey following the service.
They watched a Hurricane and Spitfire flypast from the balcony with four Battle of Britain veterans, before exchanging jokes and stories as the group had tea.
Mr Wellum said Camilla and Charles, who wore full RAF ceremonial dress, were "very" moved by the service.
He said: "Particularly Camilla, so she told me."
Mr Wellum added: "There are four of us here today that are left. It's always lovely to meet them but when you go away and think about it, we can't do what we used to do."
Wing Commander Tom Neil, 97, from Norfolk, said he had been introduced to the Prime Minister, who had called him a "hero".
But he said afterwards: "I'm not a hero, I'm just a survivor."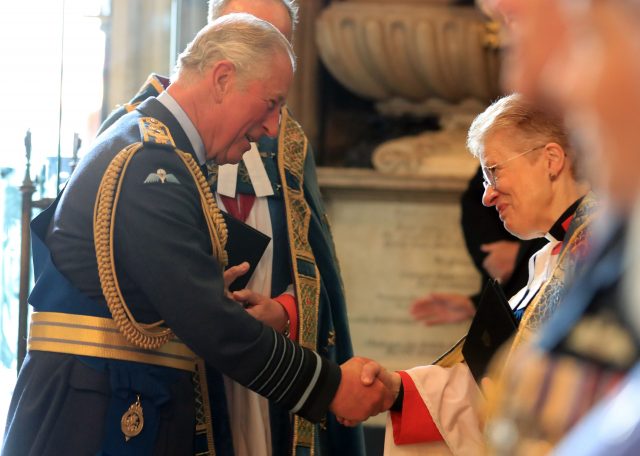 Charles and Camilla, who was wearing a Fiona Clare navy and white embroidered outfit, Philip Treacy hat and RAF brooch, also met wing commanders Paul Farnes and Tim Elkington.
The veterans are among those who fought in the Battle of Britain between July 10 and October 31 1940, and earned the nickname of The Few from Winston Churchill's celebrated line: "Never in the field of human conflict was so much owed by so many to so few."
Read Full Story