Sir Vince Cable says he is 'plausible' candidate for prime minister
Liberal Democrat leader Sir Vince Cable has insisted he is a credible candidate to be prime minister.
Despite heading a party with just 12 MPs, Sir Vince said the Lib Dems needed to assert themselves as a serious party of government.
Sir Vince said one of the key Lib Dem messages to voters would be "projecting the idea that I'm an alternative prime minister".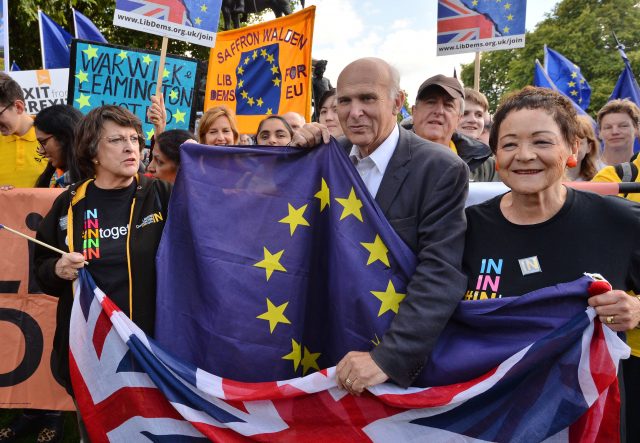 He told The Observer: "You may blink, but that's the message I need to get across and want to get across. Given the alternatives, I think that's plausible.
"In these times of political upheaval all kinds of strange things can happen."
Sir Vince said the Lib Dems needed to present themselves as a party of government, not just a voice of protest.
"We haven't been seen as even bidding for that ground," he said.
"Being a plucky third party is not my view. It's got to be that we are a serious party with a serious leader who can run the country."
Sir Vince, 74, dismissed talk that he had taken part in a deal placing him in the role of leader in a caretaker capacity until his deputy Jo Swinson took over after Brexit was triggered in March 2019.
He said: "No, that wasn't the case. I'm not putting up a limit. I do it for as long as I need to do it."
The former business secretary is using the Lib Dem conference in Bournemouth to position the party as the voice of Remain voters as he rejects talk of the possibility of a soft Brexit.
Sir Vince said that public opinion had not changed much since the Brexit refererendum, but it would once the economic reality of withdrawal from the EU sank in.
He said voters should be offered a 'first referendum on the facts' once the terms of a Brexit deal were known so that the UK could vote on the option of staying in the EU.
(function(i,s,o,g,r,a,m){i['GoogleAnalyticsObject']=r;i[r]=i[r]||function(){ (i[r].q=i[r].q||[]).push(arguments)},i[r].l=1*new Date();a=s.createElement(o), m=s.getElementsByTagName(o)[0];a.async=1;a.src=g;m.parentNode.insertBefore(a,m) })(window,document,'script','//www.google-analytics.com/analytics.js','ga'); ga('create', 'UA-72310761-1', 'auto', {'name': 'pacontentapi'}); ga('pacontentapi.set', 'referrer', location.origin); ga('pacontentapi.set', 'dimension1', 'By PA Reporters'); ga('pacontentapi.set', 'dimension2', '807f2943-a320-41b3-9566-cb47e327d7af'); ga('pacontentapi.set', 'dimension3', 'paservice:news,paservice:news:uk'); ga('pacontentapi.set', 'dimension6', 'story-enriched'); ga('pacontentapi.set', 'dimension7', 'composite'); ga('pacontentapi.set', 'dimension8', null); ga('pacontentapi.set', 'dimension9', null); ga('pacontentapi.send', 'pageview', { 'location': location.href, 'page': (location.pathname + location.search + location.hash), 'title': 'Sir Vince Cable says he is \u2018plausible\u2019 candidate for prime minister'});
Read Full Story