Detectives will continue to work to establish whether more plotters were involved in the Parsons Green terror attack, as a teenager remained in custody over the blast.
Deputy Assistant Commissioner Neil Basu said police were "keeping an open mind" about the perpetrators, following the arrest of an 18-year-old man in the departure area of Dover ferry port on Saturday morning.
The terror threat remains at its highest level - critical - meaning an attack may be imminent.
A separate search is under way at a house in Sunbury-on-Thames, Surrey - home to foster care couple Penelope and Ronald Jones, aged 71 and 88 respectively, who previously received MBEs for services to children and families.
The couple are said to be staying with friends for at least the next five days following the police raids, during which surrounding houses were evacuated by counter-terror officers, with residents told they had "one minute" to flee their homes.
Friend Alison Griffiths said the couple - foster parents for almost 40 years who had taken in up to 300 children, including eight refugees - had an 18-year-old and a 22-year-old staying with them recently.
She described Mr and Mrs Jones as "great pillars of the community", adding: "They do a job that not many people do."
A key strand of the investigation has focused on CCTV as officers comb through footage to establish who planted the device, and when and where it was placed on the train.
The chief suspect was arrested at around 7.50am, in the port which is the busiest ferry hub in Europe and serves as a commercial gateway to the French coast, including Calais and Dunkirk.
Tourist Daniel Vaselicu, 31, said he saw the "young and light-skinned" man being interrogated by two unarmed police officers moments before his arrest in Dover.
He told the Press Association: "He was white, not Arabic, but he wasn't English - there was only one person there.
"Then we went to the town centre, I wanted to smoke a cigarette and have some coffee, my opinion was that he was a homeless guy and that's why they were interrogating him.
"He was looking normal, not fighting or worried, concerned."
Thirty people were injured when the improvised device exploded during rush hour at Parsons Green station.
Police have since identified 121 witnesses, of whom 100 have been spoken to, Mr Basu said.
Many residents in Sunbury were last night allowed to return to their homes, including mother-of-three Mojgan Jamali, who was among those initially forced to flee.
Describing the moment she was instructed to leave, she said: "I was in my house with my children and there was a knock at the door from the police.
"They told me to leave. They said: 'You have one minute to get out of the house and get away.'
"I just got out, I got my three children and we left the house and the street."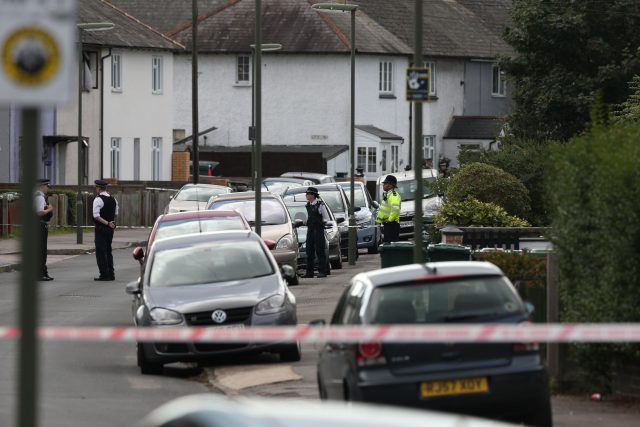 The Surrey property targeted in the raid is registered to Mr and Mrs Jones, who were honoured by the Queen in 2009.
Several residents said the couple lived there and Nicola Ryder, who lives opposite, described them as "beautiful people".
She said she knew them just as Penny and Ron, and that they would foster up to seven young people at a time between the ages of 10 and 18.
The couple featured in an interview with Elmbridge CAN, a community group which aims "to build a culture of welcome to refugees" and help settle them in the local community.
In the interview Mrs Jones said fostering "had its ups and downs", adding: "They're all children, it doesn't matter if they're sky blue or with pink dots on them - they just need to be loved."