In pictures: White Helmets rev up crowd with final motorcycle display
Motorcycle display team the White Helmets have begun a final day of public performances after 90 years of daredevil stunts and acrobatics.
The Royal Signals Motorcycle Display Team, on their classic Triumph bikes, took part in their final display at the Preston Military Show on Saturday.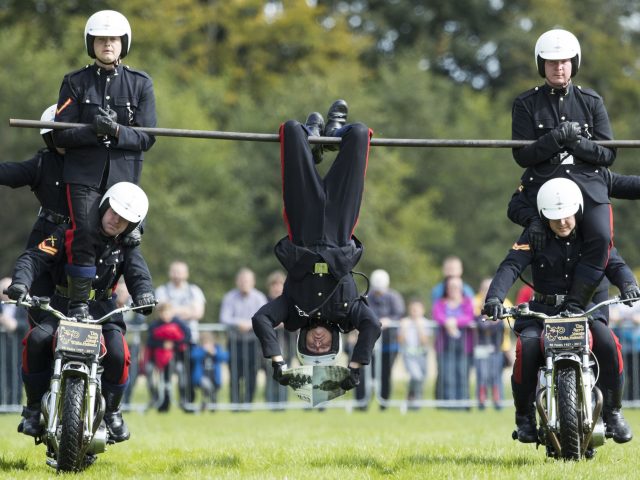 Among the crowds gathered at Fulwood Barracks for the display were veterans including 101-year-old Walter Pritchard, from Prescot, Merseyside, and 94-year-old Lewis Banham, from Burnley, Lancashire, who were dispatch riders for the Royal Signals.
Brian Iddon, 80, from Prescot, was in the White Helmets from 1959 to 1960 and watched the display with wife Sheila, 78. He said: "It's brought it all back for me here."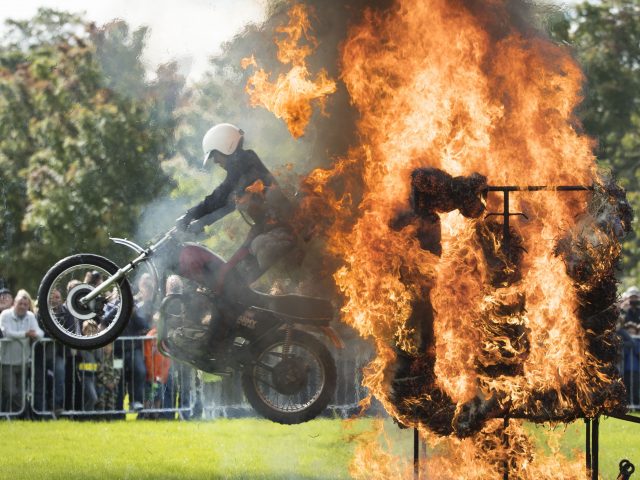 The grandfather of five, who took part in a display at Madison Square Gardens in New York when he was part of the White Helmets, said his time with the team was "brilliant" and he was disappointed they were disbanding.
Crowds gathered to see the first display of the day on Saturday, when riders drove through a ring of fire and showed off a range of stunts including riding the bikes backwards.
The decision to disband the White Helmets has been made as the Royal Signals promotes its 21st century role at the cutting edge of digital technology and cyber warfare.
The display team has been promoting the work of the Royal Signals since motorbikes were used to carry messages across the battlefield.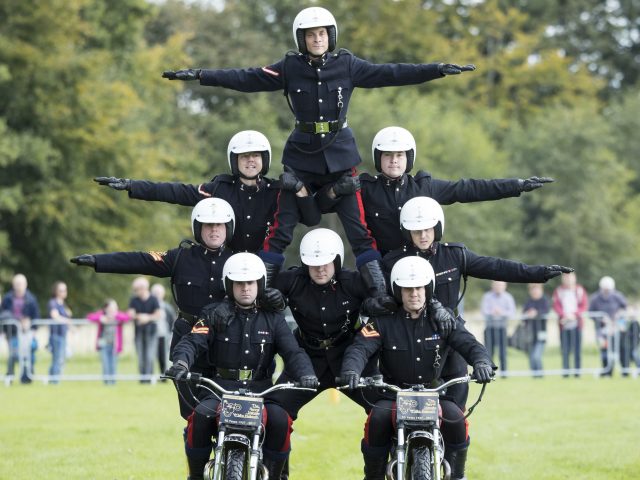 Among those taking part was Lance Corporal Dayne Ryan, from Skelmersdale, Lancashire, who joined the display team two years ago.
He said: "It's been fantastic and unlike any other role in the Army. We perform all over the country, meet lots of members of the public and ride in arenas filled with thousands of people.
"Before this part of my career I'd never really been interested in motorcycles or motorsport, it was just something I wanted to test myself at. It's been a real honour to be part of the White Helmets and it's very special to be doing our last public show in Preston."
The 27-year-old said the show was an "emotional day" as his family watched him perform in the squad for the first and last time.
An Army spokesman said: "The Royal Signals has come a very long way since those formative days using motorbikes to carry messages across the battlefield. In this digital age, the Corps uses cutting edge communications technology to carry out its vital work, including in cyber capabilities, with highly trained personnel at the helm operating it."
Read Full Story