Police tackle disorder at Arsenal stadium as huge numbers of Cologne fans arrive
Extra police have been sent to the Emirates Stadium to deal with disorder after thousands of Cologne fans turned up ahead of a match against Arsenal.
The game was due to kick off at 8.05pm but has been delayed by an hour in the interest of fan safety after huge crowds of Cologne supporters arrived at the ground.
There were many more than could be accommodated in the away end, and the chaos meant fans with tickets were unable to get into the ground.
The 60-minute delay was announced inside the stadium with Arsenal "monitoring" the situation.
The Metropolitan Police said: "Officers are dealing with disorder at the Emirates Stadium where fans have gathered for the Arsenal vs FC Koln match.
"A policing plan is in place for the game. Additional officers have been deployed."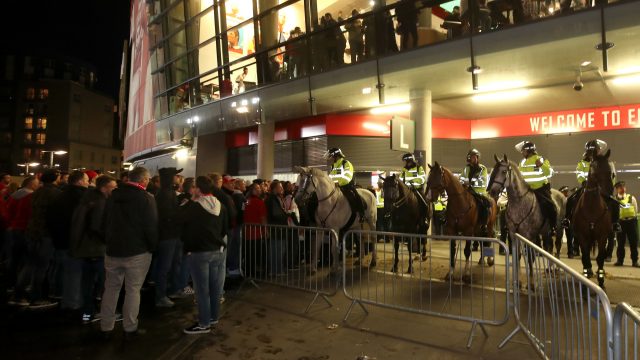 Videos posted on social media show scenes of disorder, with one appearing to show scuffles taking place inside the stadium.
Richard Conway, sports news correspondent for BBC Sport, posted the footage on Twitter, and wrote: "Koln fans fighting with stewards inside Emirates stadium. Group arrived in home end and fought their way into away section."
Another video appears to show Cologne fans singing loudly in Arsenal's home section of the stadium, while another appears to show overturned barriers and fans trying to push forwards outside the ground.
As a helicopter hovered overhead, police formed a line in a bid to hold back the crowds of fans.
Earlier on Thursday, Cologne supporters arrived in central London as thousands of fans of the Bundesliga side were expected in the capital despite only 3,000 tickets being available.
Social media posts showed hordes of supporters singing and marching around Oxford Circus hours before the scheduled kick-off.
Ahead of the delay, Arsenal's official website warned Cologne fans they faced being asked to leave the stadium if they purchased tickets in the home sections of the ground.
"Please note visiting supporters that purchase a ticket in the home end for this fixture are likely to be ejected from the stadium," a statement on the website read.
Read Full Story