Labour to force Commons vote on scrapping 1% public sector pay cap
Labour is to force a Commons vote on scrapping the 1% public sector pay cap.
Shadow health secretary Jon Ashworth called on Tory MPs to join his party in backing moves to end the "unfair" cap, with a motion to be debated on Wednesday.
Any vote on Labour's motion will be non-binding on the Government.
But the Opposition is seeking to capitalise on Conservative support for public sector workers to receive a pay increase and Theresa May's lack of majority to pressure her to take action sooner than previously hinted.
The parliamentary bid follows a former top Treasury official labelling the cap unsustainable in the long-term.
Lord Macpherson of Earl's Court, who spent a decade as permanent secretary to the Treasury until 2016, said a failure to properly cost any lifting of the 1% cap would leave the deficit unacceptably high.
He added Prime Minister Mrs May and Chancellor Philip Hammond would have to decide either to cut spending or hike taxes to pay for it.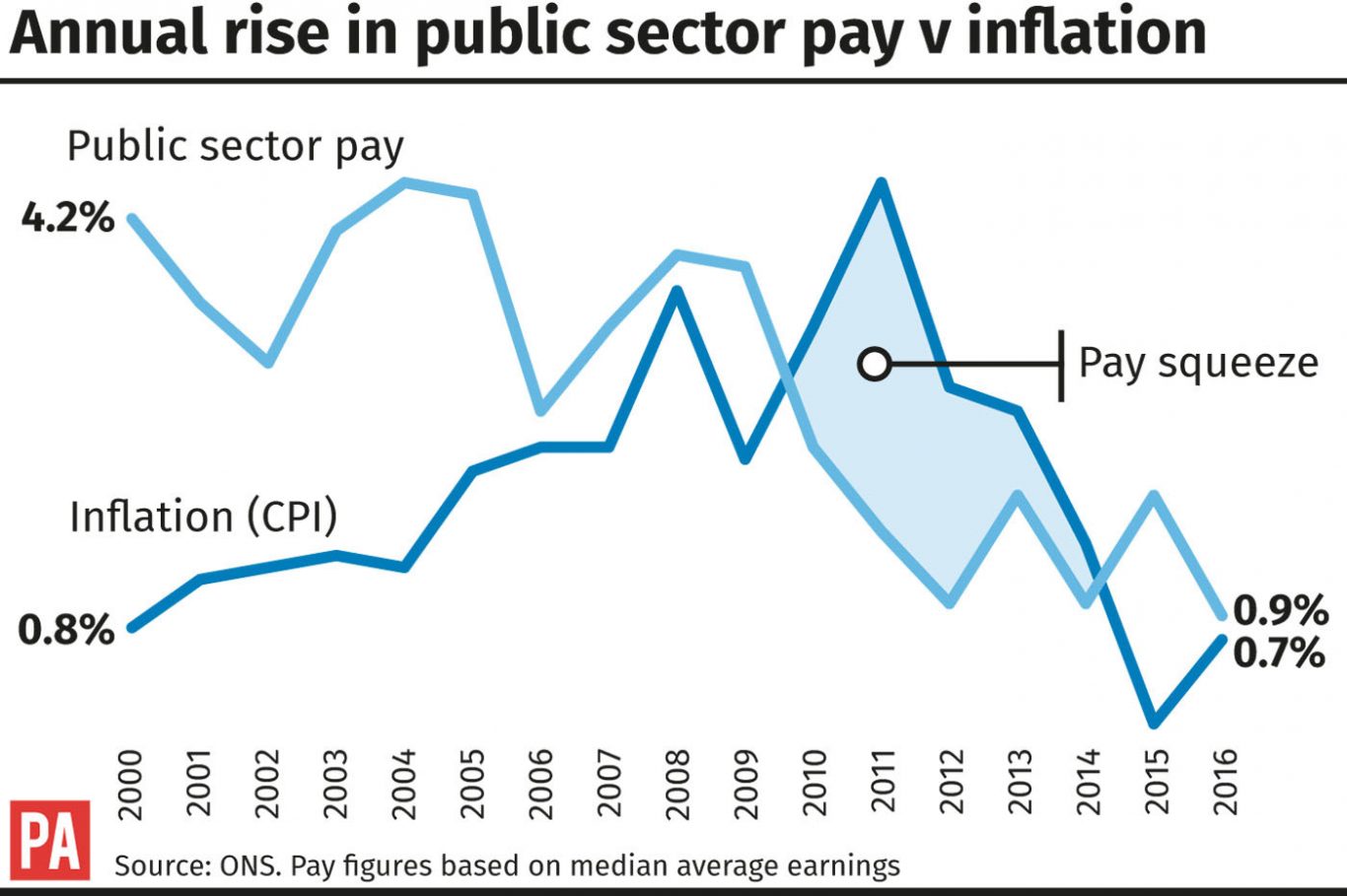 Mr Ashworth told Sky News's Sunday with Niall Paterson: "What the Government needs to do is understand the concerns of the people who work in our National Health Service and wider public services and get rid of this pay cap.
"We keep getting briefings in newspapers and suggestions that the Government is sympathetic and wants to do something, and 'Oh, it's terrible and we accept that but let's see where we get to'.
"We're bringing a vote to the House of Commons on Wednesday and those Conservative Members of Parliament who have sincerely said they believe the pay cap should go, we're calling on them to vote with us and I'm calling on your viewers to lobby those Conservative Members of Parliament and let me know what they say.
"We can put an end to the pay cap on Wednesday for the NHS staff if they vote with us."
Asked if Labour would support a union-backed general strike, Mr Ashworth replied: "People go on strike for industrial reasons, they don't go on strike for political reasons and ... the Labour Party supports people who take industrial action.
"But we don't want it to get to that stage. We don't want to see a strike. We don't want to see nurses going on strike and wider public servants going on strike."
Defence Secretary Sir Michael Fallon last week said the Government fully understood that public sector workers have taken their "share of the pain" of deficit reduction and signalled that the Chancellor was looking at the issue.
(function(i,s,o,g,r,a,m){i['GoogleAnalyticsObject']=r;i[r]=i[r]||function(){ (i[r].q=i[r].q||[]).push(arguments)},i[r].l=1*new Date();a=s.createElement(o), m=s.getElementsByTagName(o)[0];a.async=1;a.src=g;m.parentNode.insertBefore(a,m) })(window,document,'script','//www.google-analytics.com/analytics.js','ga'); ga('create', 'UA-72310761-1', 'auto', {'name': 'pacontentapi'}); ga('pacontentapi.set', 'referrer', location.origin); ga('pacontentapi.set', 'dimension1', 'By PA Reporters'); ga('pacontentapi.set', 'dimension2', '43c2c247-a268-4090-a57b-42a701007c63'); ga('pacontentapi.set', 'dimension3', 'paservice:news,paservice:news:uk'); ga('pacontentapi.set', 'dimension6', 'story-enriched'); ga('pacontentapi.set', 'dimension7', 'composite'); ga('pacontentapi.set', 'dimension8', 'paasset:graphic'); ga('pacontentapi.set', 'dimension9', null); ga('pacontentapi.send', 'pageview', { 'location': location.href, 'page': (location.pathname + location.search + location.hash), 'title': 'Labour to force Commons vote on scrapping 1% public sector pay cap'});
Read Full Story