British troops deployed to restore law and order on British Virgin Islands
British troops and police have been deployed to restore law and order on the British Virgin Islands after reports of looting in the wake of deadly Hurricane Irma, the Defence Secretary has said.
Some 500 British troops have been sent to the region, with 120 stationed in the British Virgin Islands, which has been devastated by the historic storm.
Asked how big the looting problem was in the British territory, Sir Michael Fallon told BBC One's The Andrew Marr Show: "There has been a security issue there and that's why we're now prioritising getting armed troops in and police coming in behind them to strengthen the local police force.
"You can understand the island has been devastated, it's been difficult for people to move around until you get helicopters there, but there are troops now there assisting the Governor to ensure law and order is maintained."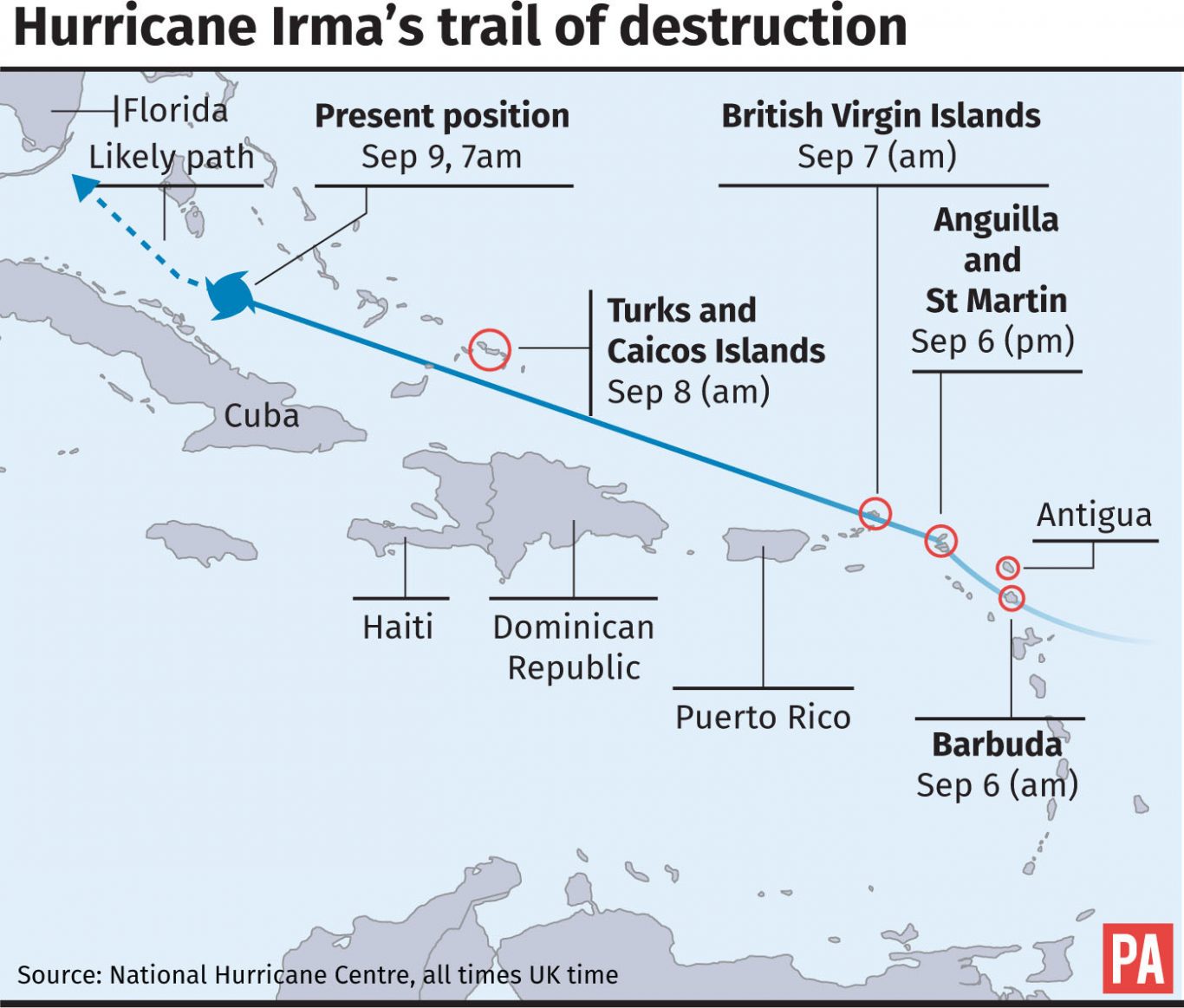 Responding to criticism over the Government's response to the disaster, Sir Michael pointed to the 16,000-tonne aid ship, equipped with marines, a helicopter, and pallets of aid, which was stationed in the Caribbean for the hurricane season.
"We pre-positioned a ship in the Caribbean for the hurricane season," he said.
"Mounts Bay was not there by chance. We pre-positioned our ship there to help on the islands, she's already been helping on the islands and as soon as we were clear which airfields could be used we got our flights in. We have troops helping at the moment."
(function(i,s,o,g,r,a,m){i['GoogleAnalyticsObject']=r;i[r]=i[r]||function(){ (i[r].q=i[r].q||[]).push(arguments)},i[r].l=1*new Date();a=s.createElement(o), m=s.getElementsByTagName(o)[0];a.async=1;a.src=g;m.parentNode.insertBefore(a,m) })(window,document,'script','//www.google-analytics.com/analytics.js','ga'); ga('create', 'UA-72310761-1', 'auto', {'name': 'pacontentapi'}); ga('pacontentapi.set', 'referrer', location.origin); ga('pacontentapi.set', 'dimension1', 'By PA Reporters'); ga('pacontentapi.set', 'dimension2', '0d1757ec-a271-4cc0-8470-ba11efefbd06'); ga('pacontentapi.set', 'dimension3', 'paservice:news,paservice:news:uk,paservice:news:world'); ga('pacontentapi.set', 'dimension6', 'story-enriched'); ga('pacontentapi.set', 'dimension7', 'composite'); ga('pacontentapi.set', 'dimension8', 'paasset:graphic,paasset:video'); ga('pacontentapi.set', 'dimension9', null); ga('pacontentapi.send', 'pageview', { 'location': location.href, 'page': (location.pathname + location.search + location.hash), 'title': 'British troops deployed to restore law and order on British Virgin Islands'});
Read Full Story