Theresa May has insisted the UK is making the running in Brexit negotiations following criticism from Brussels about a lack of clarity from her Government.
The Prime Minister said her Government had been "coming forward with the ideas" after European Commission chief Jean-Claude Juncker dismissed the position papers published by the UK as unsatisfactory.
Mrs May insisted she remained prepared to walk away from the talks without a deal if what was on offer from Brussels proved unacceptable, but an EU diplomat warned that her rhetoric was not helping the atmosphere of the negotiations.
Talks between the UK and the European Union are continuing in Brussels after Mr Juncker expressed his frustration that none of the position papers produced by Mrs May's Government was satisfactory.
His rebuke over the approach taken by Mrs May and Brexit Secretary David Davis came after Brussels' chief Brexit negotiator Michel Barnier said he was concerned about the lack of clarity and insisted: "We must start negotiating seriously."
Speaking in Japan at the start of a mission aimed at forging post-Brexit trade links, Mrs May defended the work done by the UK.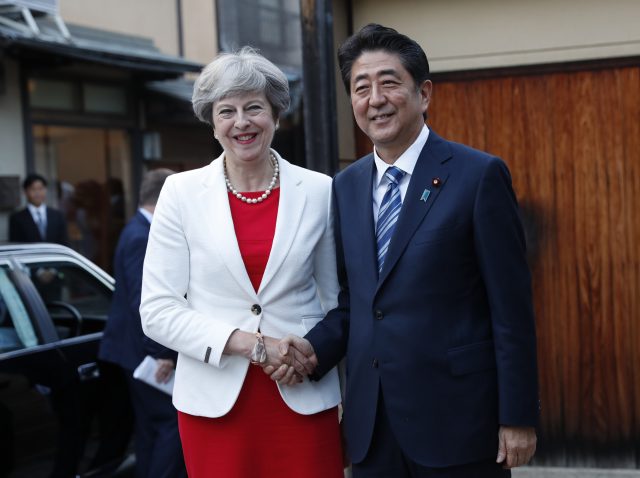 She told the BBC: "We have been publishing a series of papers over the summer, there will be more papers to come, where we are setting out the key issues that both sides need to address, the options that we have, the ideas we have, of how to deal with those.
"It's the United Kingdom that has been coming forward with the ideas and with the clarity about the future."
Asked if she still believed no deal is better than a bad deal, she said: "Yes, I think that is right. But if you talk about the point at which we leave the European Union, we want to ensure that at that point we do have a deal and that we have a deal that is the right deal for the UK."
She dismissed Labour's new support for remaining in the single market and customs union during a transitional period after Brexit as "yet another position from them".
Mrs May added: "What I set out in my Lancaster House speech is you can't be a member of the single market without being a member of the European Union and we are leaving the European Union."
Denmark's ambassador to the UK Claus Grube warned against the "no deal" rhetoric, telling the BBC: "I think it's better that we go to the negotiating table and we talk about things. I don't think it contributes to making a better atmosphere.
"I think you have had a long debate, it is now more than a year ago that the referendum took place. It's been a long, let's say, a very British debate, with a lot of wishful thinking about the future and how to get out of the EU, a lot of 'cake and eat it'."
(function(i,s,o,g,r,a,m){i['GoogleAnalyticsObject']=r;i[r]=i[r]||function(){ (i[r].q=i[r].q||[]).push(arguments)},i[r].l=1*new Date();a=s.createElement(o), m=s.getElementsByTagName(o)[0];a.async=1;a.src=g;m.parentNode.insertBefore(a,m) })(window,document,'script','//www.google-analytics.com/analytics.js','ga'); ga('create', 'UA-72310761-1', 'auto', {'name': 'pacontentapi'}); ga('pacontentapi.set', 'referrer', location.origin); ga('pacontentapi.set', 'dimension1', 'By PA Reporters'); ga('pacontentapi.set', 'dimension2', '65a95110-0667-4a60-b990-63d36b634e1e'); ga('pacontentapi.set', 'dimension3', 'paservice:news,paservice:news:uk'); ga('pacontentapi.set', 'dimension6', 'story-enriched'); ga('pacontentapi.set', 'dimension7', 'composite'); ga('pacontentapi.set', 'dimension8', null); ga('pacontentapi.set', 'dimension9', null); ga('pacontentapi.send', 'pageview', { 'location': location.href, 'page': (location.pathname + location.search + location.hash), 'title': 'Theresa May: UK is coming forward with ideas in Brexit talks'});