Great Ormond Street charity workers 'more determined' after Charlie Gard case
The Charlie Gard case has made the charity arm of Great Ormond Street Hospital (GOSH) "more determined" to help fund pioneering research, a senior manager has said.
The 11-month-old died on July 28 after his parents lost a high-profile legal fight with the children's hospital over an experimental treatment being offered in the US.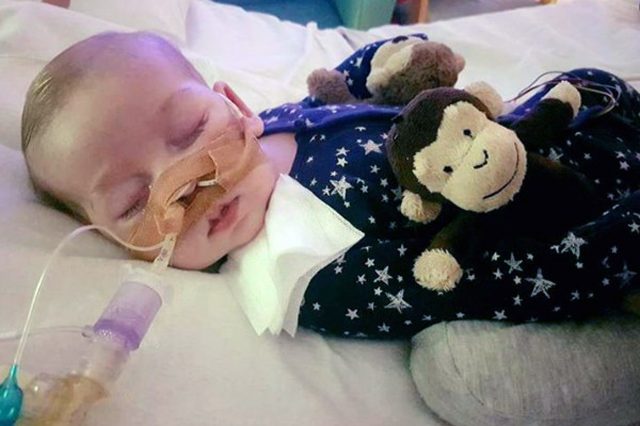 Speaking at a promotional event for a 5km fun run, Jacqui Segal, deputy director of corporate partnerships at GOSH Children's Charity, said the organisation wanted to raise money to improve patients' lives.
She said: "I think everyone felt really saddened by the Charlie Gard case and I think it just made us even more determined to do everything we can for our patients.
"We are hoping to raise, for the first time, £1 million with this race, which would be a phenomenal amount in terms of us trying to fund pioneering research and help make patients' lives just that bit more bearable at the hospital."
Asked if the publicity around the case had affected the charity's work, she said: "At present, we have not noticed any impact in terms of the effect on the actual race itself."
An estimated 8,000 people are expected to take part in the charity's Race for the Kids in Hyde Park, central London, on October 7.
TV presenter Gabby Logan was among those on hand to help some of the hospital's patients take part in a training day on Tuesday.
Among them was Dylan Kelsall, 14, who was diagnosed with Ullrich congenital muscular dystrophy which left him with a curved spine, meaning he is unable to walk.
The powerchair footballer, from Stoke-on-Trent, said he wanted to take part in order to repay GOSH for his treatment, which included 14 operations. He said: "They've given me a lot so whatever I can give back, I give back."
Logan said: "GOSH is a fantastic children's charity - it has amazing people who work so hard, tirelessly, to help in prevention, in treatment, in care. There's such a wide range of people who work with the charity.
"The fact that Dylan thinks doing it is giving something back is great - so many people there want to help raise awareness, raise money for what it is a fantastic place and a fantastic cause."
The former gymnast said she hoped the fun run would encourage parents to take part in exercise with their children, which was important to "stem the tide" of obesity in young people.
Charlie's parents themselves praised GOSH staff during the lengthy legal battle earlier this year.
Charlie suffered from a rare inherited disease - infantile onset encephalomyopathy mitochondrial DNA depletion syndrome (MDDS).
Doctors caring for him at GOSH, in London, said life support treatment should end, while his parents wanted to take him for treatment in New York.
A High Court judge ruled in favour of Great Ormond Street doctors and said Charlie should be allowed to die with dignity before Charlie's parents failed in a series of attempts to overturn the decision.
:: Those wanting to take part in the Race for the Kids can sign up at www.gosh.org.
(function(i,s,o,g,r,a,m){i['GoogleAnalyticsObject']=r;i[r]=i[r]||function(){ (i[r].q=i[r].q||[]).push(arguments)},i[r].l=1*new Date();a=s.createElement(o), m=s.getElementsByTagName(o)[0];a.async=1;a.src=g;m.parentNode.insertBefore(a,m) })(window,document,'script','//www.google-analytics.com/analytics.js','ga'); ga('create', 'UA-72310761-1', 'auto', {'name': 'pacontentapi'}); ga('pacontentapi.set', 'referrer', location.origin); ga('pacontentapi.set', 'dimension1', 'By PA Reporters'); ga('pacontentapi.set', 'dimension2', '622d0015-d8f7-4c21-b57c-875d61cfb68c'); ga('pacontentapi.set', 'dimension3', 'paservice:news,paservice:news:uk'); ga('pacontentapi.set', 'dimension6', 'story-enriched'); ga('pacontentapi.set', 'dimension7', 'composite'); ga('pacontentapi.set', 'dimension8', null); ga('pacontentapi.set', 'dimension9', null); ga('pacontentapi.send', 'pageview', { 'location': location.href, 'page': (location.pathname + location.search + location.hash), 'title': 'Great Ormond Street charity workers \u2018more determined\u2019 after Charlie Gard case'});
Read Full Story