Airbnb-style stays for recuperating patients labelled 'terrifying'
A trial scheme to move recuperating NHS patients into Airbnb-style accommodation to free up hospital beds has been labelled "terrifying" by Labour's shadow social care minister.
Barbara Keeley warned there were "clear safety risks" with placing responsibility for patients with strangers and said the pilot project was a sign social care is in crisis.
A small trial is due to take place in the South East, where homeowners could earn up to £50 a night putting people up as they recuperate from a hospital stay.
NHS figures show that last year, 2.2 million hospital "bed days" in England were lost due to delayed transfers of care.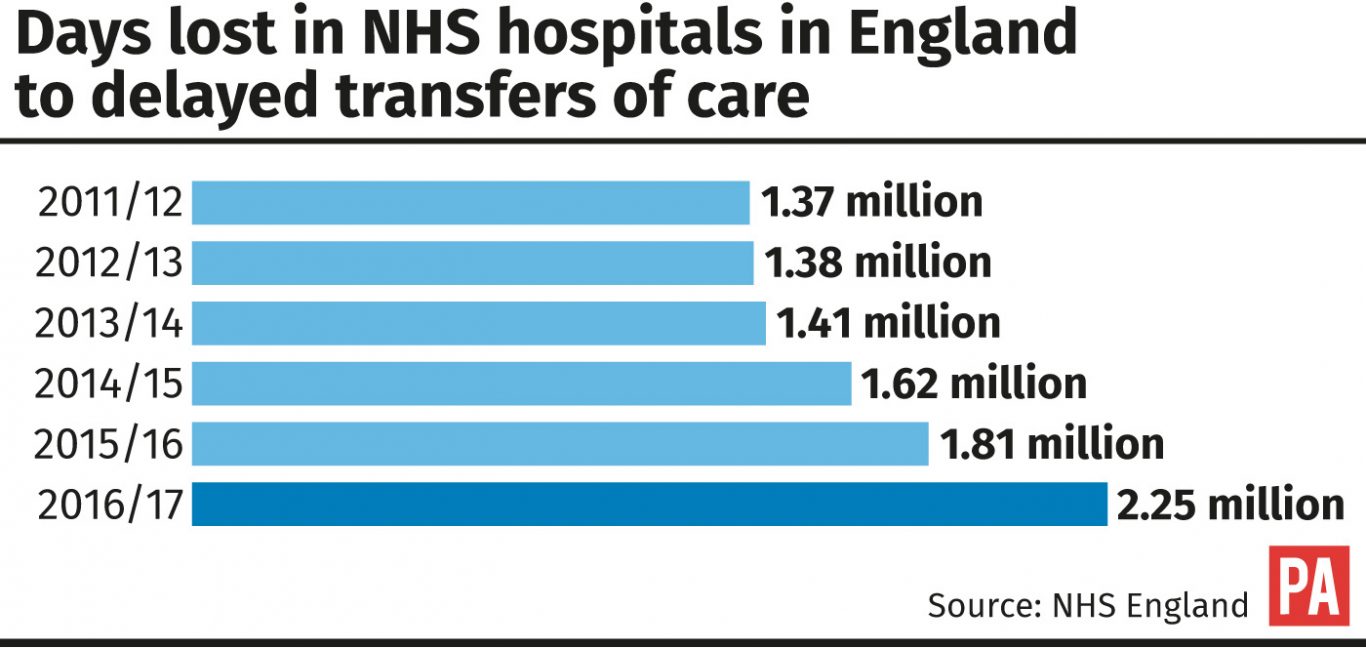 Meanwhile, Age UK has warned that increasing numbers of elderly and frail patients are being "marooned" in hospital beds, despite being medically fit.
Writing in the Daily Mirror, Ms Keeley highlighted comments by health minister Jackie Doyle-Price in which she repeated a claim that austerity has been "the mother of invention".
The Labour MP wrote: "Now we have been given a terrifying view of what that might mean in practice.
"People in need of social care in Essex could be forced to stay with strangers if there's no room in care homes. Call it CareBnB.
"The Tories' care crisis is now so bad that private homeowners are being asked to help dig them out of it."
The trial involving around 30 patients will take place in Essex, it was first revealed by the Health Service Journal (HSJ).
The scheme is being run by CareRooms, a company that says it will transform spare rooms and annexes with a private bathroom into "secure care spaces for patients who are waiting to be discharged".
The firm's co-founder and chief medical officer, Dr Harry Thirkettle, told the Press Association the scheme is aimed at patients who need short-term accommodation either before going home or going into long-term care.
He said there were "massive" benefits to be had for patients who can be discharged into home-like environments, whereas remaining in hospital can impaired mobility and cognition.
Prospective hosts, who can earn up to a maximum of £1,000 a month, need to go through "vigorous" security checks before they are approved for the scheme.
CareRooms is also using "technology safeguarding solutions" including sensors that detect any time someone enters or leaves, as well as a 24-hour call centre and patients will be able to get a GP consultation within four hours of requesting one, Dr Thirkettle said.
The Care Quality Commission watchdog told the Guardian that its registration team did not have a record of CareRooms, although could not say whether such a registration would be required.
"The CQC will contact CareRooms to better understand their business model in case they are providing something that would fall within the scope of our regulation ," a spokesman said.
An NHS England spokesman said: "While it's good to hear innovative ideas from NHS staff, this suggestion from an A&E doctor in Southend is a long way from being implemented and would first need to be very carefully assessed and tested."
(function(i,s,o,g,r,a,m){i['GoogleAnalyticsObject']=r;i[r]=i[r]||function(){ (i[r].q=i[r].q||[]).push(arguments)},i[r].l=1*new Date();a=s.createElement(o), m=s.getElementsByTagName(o)[0];a.async=1;a.src=g;m.parentNode.insertBefore(a,m) })(window,document,'script','//www.google-analytics.com/analytics.js','ga'); ga('create', 'UA-72310761-1', 'auto', {'name': 'pacontentapi'}); ga('pacontentapi.set', 'referrer', location.origin); ga('pacontentapi.set', 'dimension1', 'By PA Reporters'); ga('pacontentapi.set', 'dimension2', 'bd89d04a-5401-46ec-a2bb-0853a0b40828'); ga('pacontentapi.set', 'dimension3', 'paservice:news,paservice:news:uk'); ga('pacontentapi.set', 'dimension6', 'story-enriched'); ga('pacontentapi.set', 'dimension7', 'composite'); ga('pacontentapi.set', 'dimension8', 'paasset:graphic'); ga('pacontentapi.set', 'dimension9', null); ga('pacontentapi.send', 'pageview', { 'location': location.href, 'page': (location.pathname + location.search + location.hash), 'title': 'Airbnb-style stays for recuperating patients labelled \u2018terrifying\u2019'});
Read Full Story