NHS straining at seams with staff shortages and rising demand, say inspectors
The NHS is straining at the seams as it juggles problems with staffing shortages, rising demand and increasing numbers of patients with preventable illnesses, health and care inspectors have said.
A new Care Quality Commission (CQC) report warns that health and care services are at full stretch and that the quality of future care is precarious.
It said the NHS is "struggling to cope with 21st century problems" including increasing numbers of people with illnesses linked to unhealthy lifestyle choices like obesity and heart disease.
As well as coping with new demand, the service works with insufficient staff numbers in some areas, the regulator added.
Hospital bed occupancy reached record levels as the system faced substantial rises in the number of patients needing care.
In social care, nursing home beds are falling and unmet need is increasing, the report added. As a result, some services previously deemed to be good are deteriorating, and two thirds of hospital A&Es are not performing well enough over safety.
There are fewer beds and longer waits for treatment, the report states.
The new CQC report is based on the regulator's inspections across the health and care sector in England including hospitals, ambulance services, GP surgeries and mental health care.
Regulators highlighted pressures facing the health service including the changing nature of demand. The report told of increasing numbers of frail older patients, many with dementia, and more people with long-term complex conditions placing unprecedented pressure on the system.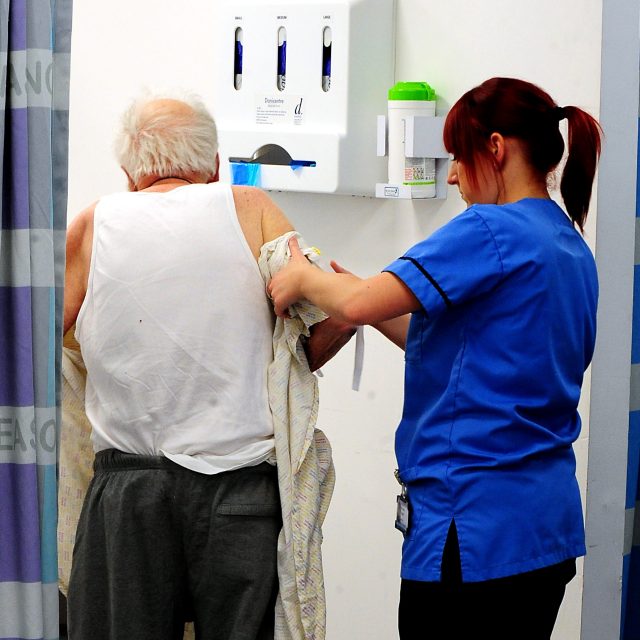 "The NHS was created in the middle of the 20th century when the big issues it was attempting to deal with were diseases like TB and polio," said CQC chief executive Sir David Behan.
"Today, the NHS and social care are dealing with obesity, diabetes, coronary heart disease, cancers, dementia. All of which are driven less by those diseases of the middle of the last century and more by lifestyle choices.
"Our healthy life expectancy is not keeping pace with our life expectancy and it is that which is driving the demand.
"From 2014 to 2034 we are going to see an increase in people aged over 85 from 1.5 million to 3.2 million people.
"We are living longer but are not living healthier so I think what we are signalling is that the system now and into the future has got to deal with those increased numbers of older people who are going to have more than one condition."
The report says future quality is precarious as the system struggles with increasingly complex demand, access and cost.
Overall, the regulator said that, compared with last year, the quality of care was maintained thanks to staff efforts but health and care workers are under huge pressure and staff resilience is not inexhaustible.
The report said the number of vacancies across all NHS settings rose by 16% from March 2015 to March 2017.
There were around 67 full-time GPs per 100,000 people in the population in 2014. The figure fell to 62 in 2016, the report states.
Health minister Philip Dunne said: "We are determined to make the NHS the safest healthcare system in the world and are investing in more staff and in services - including £2 billion extra for social care, £1.4 billion to improve young people's mental health services and an extra £100 million this winter to help A&E departments cope with demand."
(function(i,s,o,g,r,a,m){i['GoogleAnalyticsObject']=r;i[r]=i[r]||function(){ (i[r].q=i[r].q||[]).push(arguments)},i[r].l=1*new Date();a=s.createElement(o), m=s.getElementsByTagName(o)[0];a.async=1;a.src=g;m.parentNode.insertBefore(a,m) })(window,document,'script','//www.google-analytics.com/analytics.js','ga'); ga('create', 'UA-72310761-1', 'auto', {'name': 'pacontentapi'}); ga('pacontentapi.set', 'referrer', location.origin); ga('pacontentapi.set', 'dimension1', 'By PA Reporters'); ga('pacontentapi.set', 'dimension2', 'f12b6ec0-c654-4fe1-8c7f-0502a5684ed5'); ga('pacontentapi.set', 'dimension3', 'paservice:news,paservice:news:uk'); ga('pacontentapi.set', 'dimension6', 'story-enriched'); ga('pacontentapi.set', 'dimension7', 'composite'); ga('pacontentapi.set', 'dimension8', null); ga('pacontentapi.set', 'dimension9', null); ga('pacontentapi.send', 'pageview', { 'location': location.href, 'page': (location.pathname + location.search + location.hash), 'title': 'NHS straining at seams with staff shortages and rising demand, say inspectors'});
Read Full Story